Above the buzz of trading, one of the most iconic sounds of the New York Stock Exchange (NYSE) is the ringing of the bell to signal the opening and closing of the day's trading. It is also a tool of celebration. 
This September 19th, XPRIZE and CEO Anousheh Ansari had the honor of ringing the closing bell, surrounded by XPRIZE executives, board members and supporters, in honor of NYC Climate Week. 
This marked the foundation's first public appearance atop the bell ringing podium in celebration of our past and future work to fight climate change and show that world-changing prize competitions can–and do–work, and can be lucrative moving forward. 
Climate Week 
XPRIZE is a proud ally of Climate Week NYC, the largest annual climate event of its kind. Climate Week NYC brings together people from across the world to share in over four hundred events, activities, celebrations, and festivities across New York City and online. 
Climate Week NYC is both a space to share climate research and a highly effective method of generating support. International business leaders, politicians, academics, and private representatives gather each year to drive transition to a greener future, speed up progress, and champion future-positive change. In these ventures, XPRIZE is proud to be an ally.
The annual week-long event is hosted by Climate Group, "an international non-profit whose purpose is to drive climate action, fast." Climate Week NYC takes place every year in partnership with the United Nations General Assembly.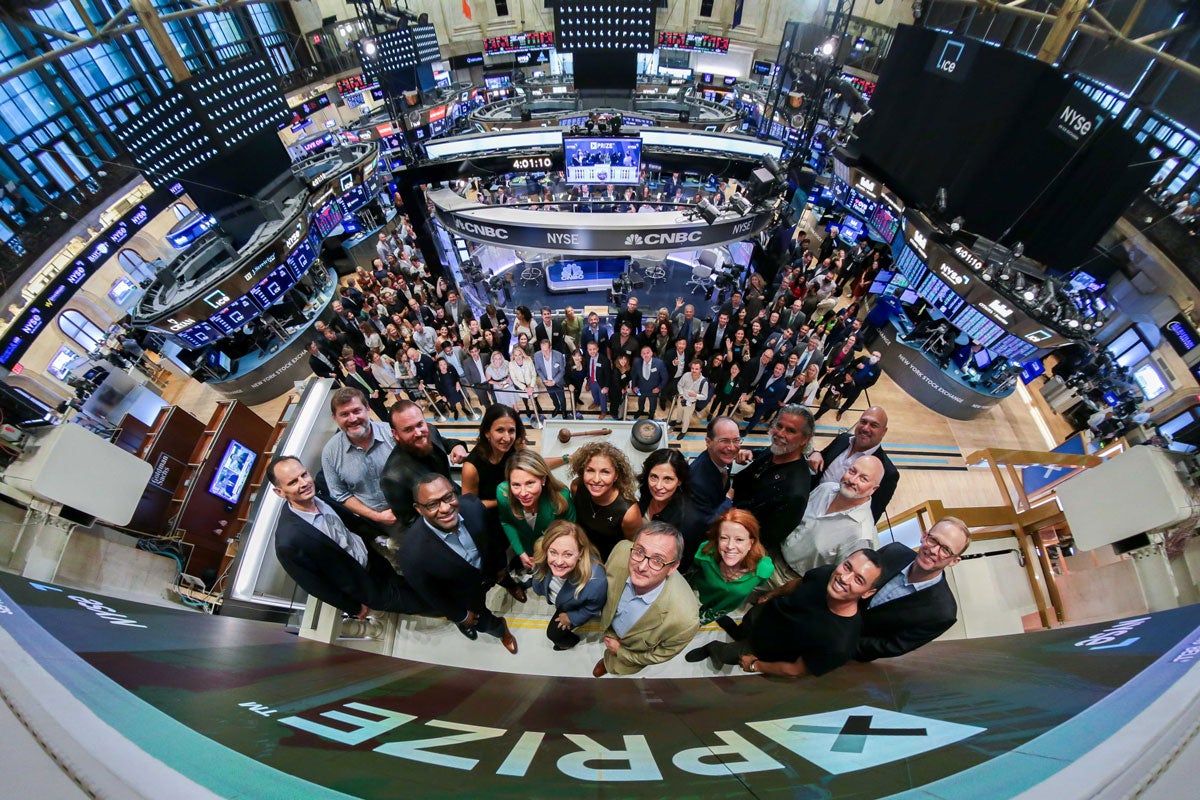 Chimes of Change
Lynn Martin, president of the NYSE, welcomed XPRIZE and guided the event. Hundreds of guests and curious traders packed the busy trading floor, to whom Anousheh Ansari delivered a speech detailing XPRIZE's commitment to solving humanity's greatest challenges, including climate change.
"Today, all of our active prizes totaling $136 million will impact climate, conservation and sustainability work around the world . . . and hopefully help solve some of the greatest climate-related challenges of our time." -Anousheh Ansari
Then, amidst the supportive onlookers who cheered the bell-ringers on, Anousheh Ansari rang the NYSE Closing Bell on behalf of XPRIZE and celebrated the return of Climate Week NYC. 
An XPRIZE panel featuring past competing teams followed the bell ringing ceremony, as did demonstrations of technology developed in XPRIZE competitions and an introduction from Anousheh Ansari. In this, she explored the growing effects of climate change and XPRIZE's commitment to being part of the solution.
"Our climate challenges cannot be solved with a single solution. They require bold innovation across many industries which contribute to the problems we face today." - Anousheh Ansari
She also reminded attendees of the urgent need to develop more sustainable systems across the board to reverse and restore the damage done by climate change so far. XPRIZE has the potential to introduce this impact on a global scale.
As Anousheh Ansari closed her speech, she introduced her audience to some of the genius tinkerers, entrepreneurs, and engineers who climate change for the better with XPRIZE. 
In case you missed it on CNBC or other global TV networks, check out the XPRIZE Ringing of the Bell Ceremony here:
Panel Recap & XPRIZE Technologies
Attendees were treated to exclusive demonstrations from teams who are current competitors or have previously competed in XPRIZE challenges. 
Among the teams in attendance, Aqua Cultured Foods showcased a delicious scallop crudo made from their microbial fermentation-based seafood alternative which was developed during XPRIZE Feed the Next Billion. Tampa Deep Sea Xplorers displayed their Barracuda autonomous underwater vehicle (AUV) from the Shell Ocean Discovery XPRIZE. The AUV is used for ocean exploration and mapping. Treeswift, an alumnus from XPRIZE Rainforest, took attendees through the canopy with their virtual forest tour, showing how forest health will be catalogued and evaluated in the future.
Also in attendance was Carbon Upcycling, whose participation in NRG COSIA Carbon XPRIZE led to the successful production of carbon-captured materials. They exhibited Oco low-carbon products made with Carbon Upcycling's technology, including crayons, backpacks, watches, and more. Additionally, Quest Institute showcased a range of technologies, including an AUV, developed through their involvement in XPRIZE competitions spanning NRG COSIA Carbon XPRIZE, Shell Ocean Discovery XPRIZE, XPRIZE Rainforest, and the ANA Avatar XPRIZE.
Attendees also heard competitors talk about the impact of their work in-depth in a panel moderated by Anousheh Ansari. Joining her on stage were:
Gregory Constantine, CEO and co-founder of Air Company, which creates award-winning products from carbon dioxide such as aviation fuel, vodka, and perfume. Air Company was a finalist in NRG COSIA Carbon XPRIZE and is currently competing in XPRIZE Carbon Removal.
Alex Ip, finalist in NRG COSIA Carbon XPRIZE, and CEO and co-founder of CERT Systems, which creates carbon-based chemical feedstocks like ethylene to create sustainable products.
Charles Yhap, semifinalist in the IBM Watson AI XPRIZE, and CEO and co-founder of CleanRobotics, which uses AI and machine learning to accurately sort recycling and divert waste from landfills.
Teacher Danny Kim, CEO of Quest Institute, who enabled his high-school students to compete in multiple prizes, including Shell Ocean Discovery XPRIZE, XPRIZE Rainforest, and ANA Avatar XPRIZE. His education programs support hands-on learning for next-generation innovators, from the depths of the ocean to the reaches of outer space. He's currently competing in XPRIZE Carbon Removal and assembling a team of students for XPRIZE Wildfire.
How XPRIZE Can Be Part of the Solution
XPRIZE has demonstrated this commitment to climate change solutions throughout its history. 
Moving forward, XPRIZE will continue to support efforts to combat climate change. Whether through prizes, visibility, or providing a platform from which to be heard, our mission will continue to align with the needs of the scientific community and activate great minds to achieve moonshot goals. 
None of this is possible without our ecosystem of experts nor without the generous support of donors. Get involved, join a team, and donate at XPRIZE.org.